A Tag-All menu option has been added to the NPC Indicators plugin, letting you easily tag all monsters of a given name. Thanks to @zeffirojoe for this addition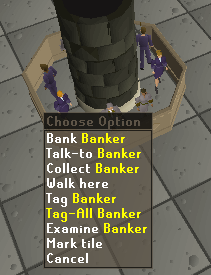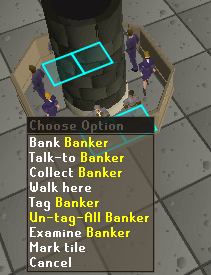 When killing monsters using a multi-hit attack, such as an Ancient burst or barrage or chinchompas, the Slayer plugin will now accurately track your task progress even when multiple monsters are killed in a single attack.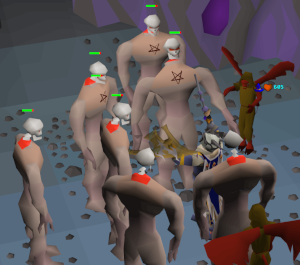 There are also several smaller improvements and bug fixes, including:
You can now use partially transparent colors for your NPC Indicators
The ingame boss HP bar added for Chambers of Xeric bosses is now moveable
Chat Notifications now only send notifications when your name is mentioned in a player message. No more notification spam from boss kill messages!
Some Meiyerditch wall obstacles that were previously missing are now highlighted by the Agility plugin
Plugins with key remaps no longer interfere with input on the login authenticator screen
The Grand Exchange plugin's offer panels now open the item's Grand Exchange page when clicked
You can use the !kc aa and !kc ape atoll abbreviated chat commands to check your Ape Atoll Agility course lap count
You can now toggle visibility of Hallowed Sepulchre skill challenge clickboxes in the Agility plugin
You can now toggle the plugin panel when on the login screen
The Random Events plugin can now notify you when receiving Dr. Jekyll, Beekeeper, and Sandwich Lady events
Your configured overlay background color now draws tooltips with the same color background
The Loot Tracker plugin can now send a chat message with your Theatre of Blood chest loot value. Additionally, the Chambers of Xeric chest loot value message functionality has moved to the Loot Tracker plugin
Enjoy!
- Jordan
New commits
We had 15 contributors this release!
Adam (26):
      overlay renderer: avoid unnecessary cursor reset on key release or focus lost
      menu swapper: fix toggling customizable shift-click option
      menu swapper: don't apply item menu swaps when shift is held
      api: add isKeyPressed
      client: update to use isKeyPressed
      api: add high alch price to item composition
      client: use item composition high alch price
      examine plugin: fix overflow in computing alch price
      client: use guice provided http client everywhere
      client: add --insecure-skip-tls-verification option
      api: add VarbitComposition, config index, and index fileids
      var inspector: optimize var checking
      npc indicators: fix tag/untag option name selection logic
      api: add ActorDeath event, remove PlayerDeath
      plugins: update to use ActorDeath
      slayer plugin: better support multikills
      infobox manager: keep infoboxes in order of insertion
      plugin manager: remove extra injectMembers() call
      player composition: add isFemale
      config: minor plugin panel cleanup
      xpdrop plugin: use script events instead of widget hidden
      xpdrops: reset xpdrop color on wrong prayer
      xpdrops: fix recoloring xpdrops when prayer is flicked on the previous tick
      xpdrops: fix hide skill icons
      clues: correct spelling of Burthorpe
      inventoryid: add trade inventories

Broooklyn (11):
      menuentryswapper: Fix claim slime swap
      chatnotifications: Only notify on name in player messages (#11874)
      SkillChallengeClue: Add Varrock armour 4 to prospector outfit (#12024)
      discord: Fix Hosidius/Tithe Farm regionIDs
      agility: add missing Meiyerditch obstacle highlights
      discord: Fix Prifddinas area region IDs (#12059)
      ItemChargeConfig: Improve grammar and wording (#11881)
      chat commands: add ape atoll agility to longBossName
      chatfilter: Add config section for filter lists (#11900)
      agility: Add config for Sepulchre obstacles and skill obstacles
      agility: Add Hallowed Sepulchre config section

CopyPastaOSRS (1):
      WidgetOverlay: Make encounter health bar moveable (#11938)

Cyborger1 (1):
      notifier: make flash cancelling more responsive

Henry Darnell (1):
      ThinProgressBar: Further darken background color (#11916)

Joe Zeffiro (2):
      npc indicators: add (un)tag-all option
      KeyManager: Block remaps on authenticator game state

Jordan Atwood (8):
      slayer: Update initial amount if current amount is higher
      ClientUI: Fix panel toggle after closing with click
      bank plugin: Remove ContainerCalculation class
      widgets: Fix resizable minimap container ID
      AnagramClue: Fix Cam the Camel elite step text
      keyremapping: Remove vestigial LOGIN_SCREEN guard clause
      KeyListener: Add isEnabledOnLoginScreen() method
      xpdrops: Fix white xp drop text recolors

MMagicala (1):
      skillcalculator: Fix Maple longbow (u) xp (#12064)

Max Weber (8):
      ClientUI: Allow hotkey plugin panel toggles on login screen
      runelite-client: remove removed scripts
      npchighlight: Allow transparency on npc colors
      runelite-client: avoid Widget::getDynamicChildren where trivial
      npchighlight: factor out npc name tag checking
      npchighlight: don't unhighlight name tagged npcs if unindex-tagging them
      npchighlight: Don't iterate npcs off the client thread
      rl-client: Prevent chat inputs from taking keys from the worldmap search

Paulo Cabral Sanz (1):
      Add Nullable decorator to widget getter api

Sam Rosenthal (1):
      EmoteClue: Support infernal and crystal axes for enchanted valley clue step (#11934)

Shawn Shadrix (2):
      randomevents: Cleanup and alphabetize code
      randomevents: Add missing events

Su-Shing Chen (1):
      ge plugin: add GE links to the offers panel

Trevor (2):
      cache: add default values to HealthBarDefinition
      raid plugin: add raid scouted/reset events

melkypie (3):
      tooltips: make overlay color background option affect tooltips
      loot tracker: move cox loot value message from raids to loot tracker
      loot tracker: add ability to have end of raid tob chest loot value in a chatmessage